This simple chicken curry dish is all about the fresh spice blend (recipe below). Control the heat with the amount of chili peppers added to the mixture. And don't do this: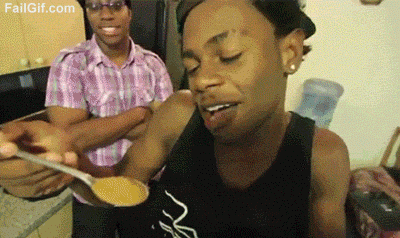 Madras Curry Chicken with Cauliflower Rice
3 Tbsp preferred cooking oil
1.5 lbs boneless skinless chicken thighs, 1/2″ dice
1 small yellow onion, 1/4″ dice
2 cloves garlic, fine dice
4 slices ginger, about quarter size, fine dice
1 carrot, 1/4″ dice
1/2 bell pepper, 1/4″ dice
2 Tbsp madras spice blend (recipe below)
1 can coconut milk
1 cauliflower head, "riced" in food processor (see step 1 below)
1/4 cup chopped cilantro
3 green onions, finely sliced
Salt & pepper to taste
Madras Curry Spice Blend (from Raghavan Iyer)
2 Tbsp coriander seed
1 Tbsp cumin seed
2 tsp mustard seed
1 tsp black peppercorn
1/2 tsp whole cloves
1 tsp ground turmeric
5 to 7 whole dried red chili peppers
Mix spices in coffee grinder and pulse until finely ground. Makes about 3/4 cups.
Preparation
Fill large sauce pan 2/3 with water and pinch of salt and set on back stove burner on medium. Cut cauliflower into large florets and pulse in food processor until size resembles that of large rice. Set aside.
Heat half the oil in a sauté pan on medium-high heat, add diced chicken, season with salt & pepper and cook until pink is removed. Set aside in strainer (don't eat as it's probably not cooked thoroughly).
Add remaining oil to same sauté pan and turn heat down slightly to just above medium. Add onion, garlic and ginger, and cook for 2 mins. Next add the carrot and bell pepper, and cook for 3-4 minutes or until soft.
Add spice blend to veg mixture and cook for 30 seconds to a minute, ensuring spices are fragrant and toasted.
Add chicken back into sauté pan with vegetables and toss together. Pour coconut milk into pan, stir to incorporate and bring to a simmer. Turn heat to medium low and let simmer for 15-20 minutes stirring occasionally.
Meanwhile, crank the burner with pot of water to high. When boiling, add your cauliflower and boil for 3-4 minutes, or until cauliflower is tender. Strain over the sink and get as much water out as possible before dumping into a serving bowl. Season with salt, pepper, cilantro and green onion before plating.
Layer cauliflower rice into serving bowl with a healthy scoop of curry on top. Garnish with cilantro and green onion. Take a seat.
This slideshow requires JavaScript.